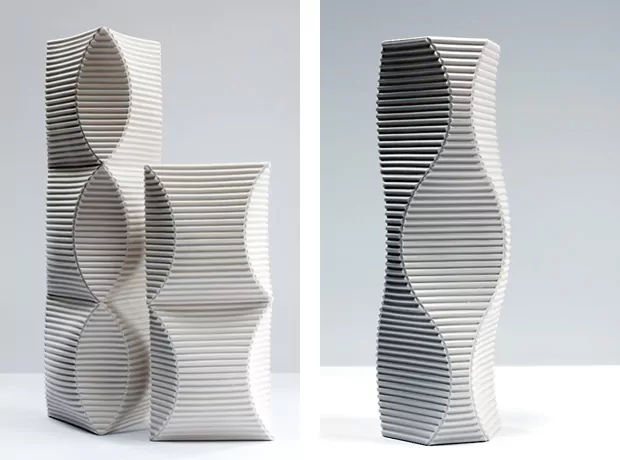 Sculptural Vessels by Keith Varney

'Flow' – slip cast bone china sculptural vessels
This idea of segments being removed from a pot has been of serious interest to me. In fact, I've explored it on a personal level at a local studio. As you can imagine it's always great to see other examples on a similar wavelength, inspiring vessels like this are really fuelling my work. At first I was thinking about the process on a basic level, creating vessels on the wheel and then subtracting any excess at the trimming stage. But actually you could start by hand building first and working from there. Much like what we see here by UK creative Keith Varney who makes these stunning objects at his studio in Somerset.
Before pursuing ceramics Keith had a successful career as a furniture designer and cabinetmaker. In 2005 he wanted a new challenge and change of direction, so he decided to study ceramics and in 2011 built his own small studio where he could develop his practice. Keith now exhibits widely across the UK, even winning an award in 2013 for 'Best Ceramics' at the Contemporary Craft Festival, Bovey Tracey. It's obvious to see that both line and texture are an inspiration, also the way in which these elements interact with light, shade and colour. I think this is why the technique appealed to me, these contusions make the pot look different from all angles, just depending on the light at that moment in time.
Keith creates these by working with paper-thin porcelain sheets, which he scores and folds to create these flowing forms. I guess this is the fantastic quality of clay, you can create literally anything, just by working with simple hand tools and using your imagination. Hopefully these will spark something inside of you and you'll give something like this a go yourself.

'Helix 2 & 3' – hand built porcelain sculpturaal vessels

'Pulse 3' + 'Enfold 2 & 3' by Keith Varney

'Flow' – slip cast bone china sculptural vessels

'Enfold 1,2 & 3' – hand built porcelain sculptural vessels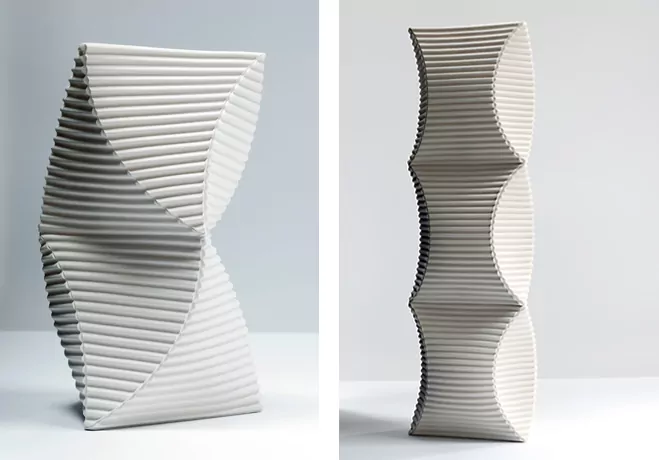 'Helix 2' + 'Enfold 3' by Keith Varney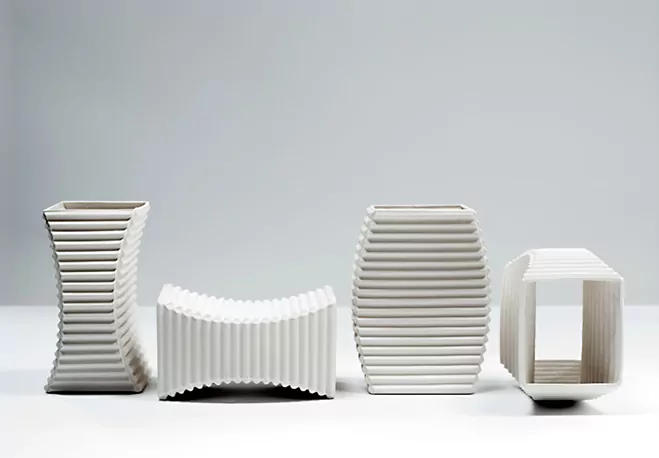 'Concave/Convex' – hand built – porcelain sculpture

'Flow' Vases by Keith Varney