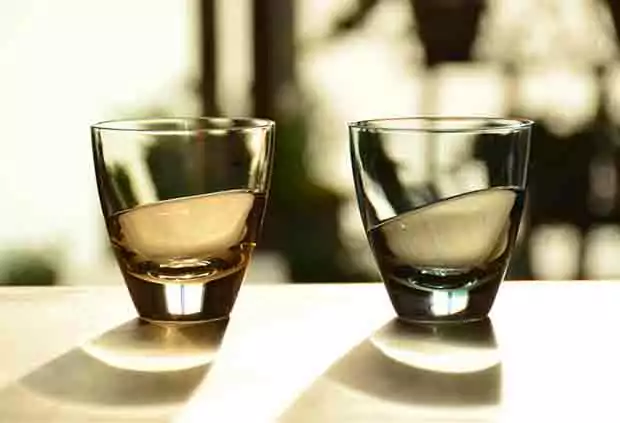 Handmade Glassware by Sugahara
At the moment I feel like I have so many creative inspirations, sometimes I do worry that it's getting a bit out of hand. But then I look at the website and I love the diversity and originality that we're bringing to the table. Glass is one of the more interesting subjects, I actually wasn't a massive fan originally, but once I started to delve deeper it fascinated me to see such skill and craftsmanship. I guess it's like anything in life, especially when you're a sucker for detail like myself. Often the simple looking vessels are the hardest to make as a glassblower, that's why a lot of glass artists tend to focus on more experimental work that will allow them to get away with little errors here and there. Sugahara on the other hand are a perfect example of glassblowing perfection, creating vessels that have real simplicity but offer function in a mixture of everyday scenarios.
As I mentioned before with handmade products, there'a a fine line between being a bit plain and lacking in character, to having that quality that only crafted wares can have. In my opinion, the talented makers at Sugahara produce glass that comes alive and it really sticks out even if it has a simplistic looking form. A lot of the companies now have to compromise on quality due to profits and other business orientated stuff, but Sugahara really doesn't and you can see from their website that they're trying to produce some of the finest glassware in Japan. I guess this only comes from years of experience, which in Sugahara's case dates back to 1932, set up by Kazuma Sugahara in Tokyo.
One thing that Japanese companies are good at is collaborating with native designers and young talent to produce such beautiful forms. I think this is an important aspect of their working method as a lot of 'modern day' designers don't tend to work with craftspeople or encourage handiworks, it's mainly mass-produced without much thought on the little details. Well, those that set them apart from cheaper goods. One talented individual that springs to mind is Oji Masanori, who has made this very much his niche in the design world. And it has worked out superbly for him, his portfolio is brimming with fantastic designs and products made by local craftsmen and hand-producing companies.
I picked out these photographs from the Japan Interior website, a store based in Osaka that sells Japanese crafts and design goods like ourselves, most notably SIWA and Sugahara. I thought these summed up the products nicely and gave you a great introduction to the works of the company, actually I thought the photos of them making in their atelier are pretty sensational. Just a shame there aren't more to gawp at!