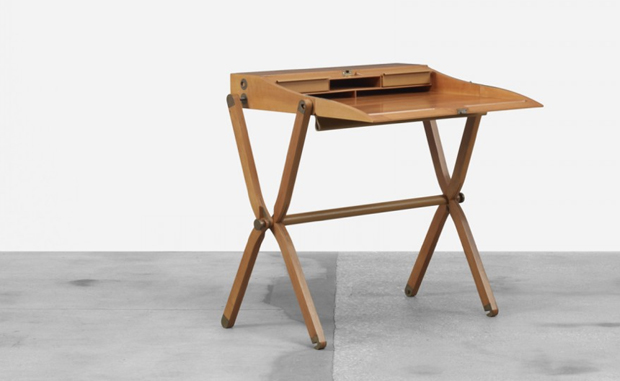 Pippa Folding Desk by Rena Dumas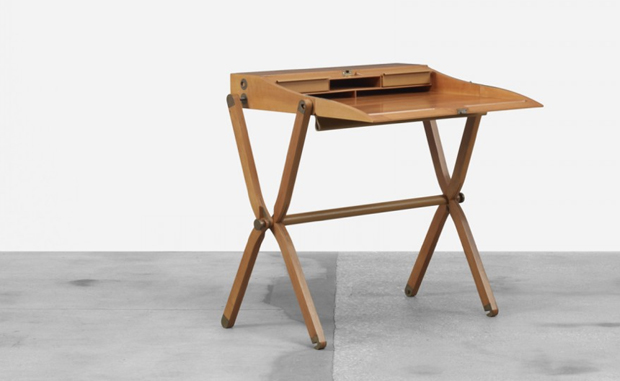 Earlier today I was having a browse across some of the recent items that Wright20 have lined up for auction and this beautiful folding desk from the early 90's really caught my eye for its sheer individuality. It was designed by Greek native Rena Dumas for Hermes who was better known for her architectural work with the Parisian company. It was only later in her career she would take on the role of furniture designer which as we can see here came pretty naturally to her.
Initially founding Rena Dumas Architecture Interieure in Paris 1972 she would go on to design almost over 300 Hermes Boutiques in her time. It was her ridiculous work ethic that set her apart from her peers, reportedly only taking 15 days off for each birth of her two children. Whilst you have to admire her dedication to her work it's the designers eye for detail which impresses me the most. Perhaps this was a by-product of her work ethic but the design of this desk is sublime in my humble opinion.
Stripping this form back to the bare bones Rena put together this versatile item with the wood of a pear tree, the finest quality of leather and finished the details off in brass. I love the concept of being able to fold this away into a sleek manageable rectangle which could live in a cupboard when not in use. It's classic feel reminds me a lot of those mid-century modern objects that we recently have been admiring here on the blog, it has such a timeless aesthetic for me – especially in this mint condition.
This auction is definitely a little beyond my price bracket for the time being given it's 10-15 thousand GBP price tag, but I'm sure it will become a proud addition to one collectors home come thursday when lot 301 goes live. Just in terms of design inspiration I think it's a delightful object to admire, if you enjoy seeing this item too I can recommend heading across to the Wright20 webpage which has ample lots like this one ready for the viewing.