Joe White, Guitar Maker by Philip James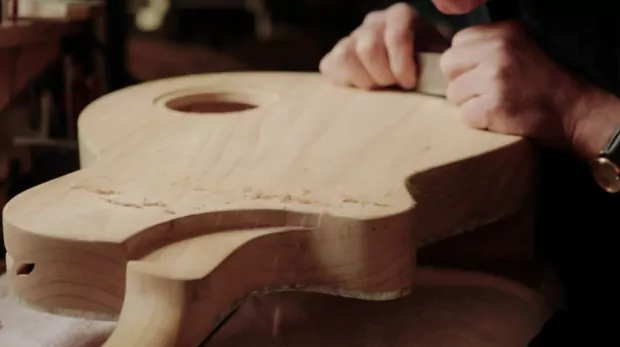 We love seeing objects being made, I think there's something quite enticing about seeing block materials transformed into a new form, particularly if it's wooden. Joe White who is based in Aldershot here in England humbly works with wood each day crafting bespoke handmade guitars, that really are a beauty to behold.
It's always inspiring to come across creative people who are in absolute love with what they do, not for the financial gain but simply because they love creating and just long for means to continue this process. Joe seems a real gent and is quite obviously a master of his craft, as he explains in the film below he is always looking to develop new guitars and strives to create new sounds from each.
Although the credits go on a little at the end of the piece, and I'm not sure the logo is needed at the start, I thoroughly enjoyed learning about Joe and his creations, I'm so glad that Philip took the time to put this together. This is the first film that Mr James has released online as far as I'm aware, so hopefully he can continue to bring us such character rich content in the near future.