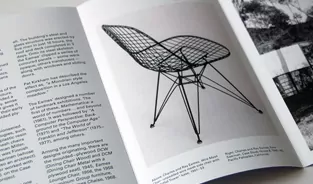 Donna Wearmouth for Quadra Gallery
Donna Wearmouth, a junior designer at Gardiner Richardson, created an interesting series of design work for Quadra Gallery. These minimalist pieces include an opening poster, various guides, and the identity, all with the same basic aesthetic.
The use of type was something that originally caught my eye, also the bold shapes and disproportionate sizes. Considering these were made for some of my favourite architect/designers, Le Corbusier, Tadao Ando, and Charles Eames, I couldn't help but love the simplicity, something that runs along nicely with the aesthetic of the designers themselves. She's not over done it, which is actually one of the biggest challenges when playing with white space. But they are all very striking nonetheless.
Luckily for us you can now actually purchase these posters over at her online store.