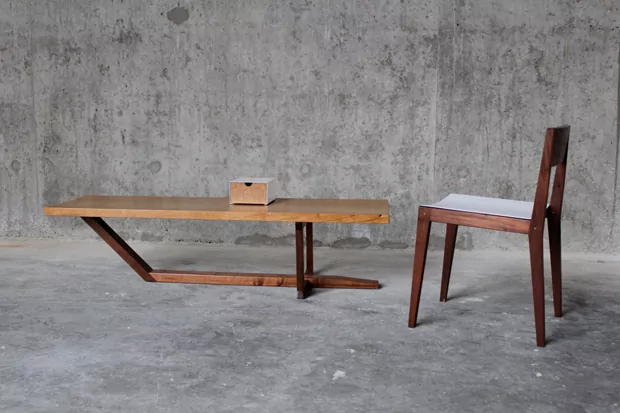 Furniture from the Elijah Leed Studio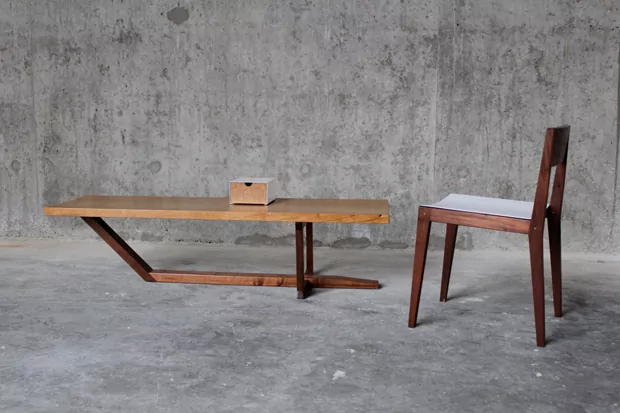 I bumped in to the studio of Elijah Leed last week and I was pleasently surprised with my findings, as initially I didn't set out to discover a furniture designer of any sort. So it was not only great to see some simplistic forms, I also liked the idea that all of these were made out of reclaimed materials. I think this takes the design process to a whole new level when you have to use what's already around you. In some ways you have boundaries, and in others you don't, but you have to be extremely creative and use the materials you have in the best way possible and to your advantage.
It was also surprising to hear of Elijah's background as a maker, who's always been active in the arts, primarily charcoal and other 2-D media. Once at college he quickly turned to glassblowing under the instruction of well-known glass artist Stephen Rolfe Powell, and also dabbled in ceramics at the same time. Only after working in a metal studio later that he realised his passion for interpreting objects placed him closer to the model of a designer, rather than an artist. Years on he's now built up a small but concise portfolio that offers a round up of some of his best furniture works to date, and I decided to convey some shots here for all of you to enjoy.
I found one theme particularly interesting, that was the idea of how this work sits against traditional mass produced furniture and the perception that 'reclaimed' has in the world. If you didn't tell someone that this furniture was designed with sustainability in mind, they wouldn't even know. But if you did, would their opinion change of be altered? Personally it adds to the experience of owning a piece of furniture like this, when you know the maker has considered every element and are putting back in to the world rather than taking. Plus, they all look superb and would suit any home wonderfully.
Personally, I feel like through Elijah's different experiences as a creative, whether that be through glassblowing, ceramics or other arts, he's gained the knowledge to apply these to his current medium. I've found it's important to experiment in different 'hands on' crafts before you start producing for the world around you, how can you really make something functional and useful when you have no knowledge of what it takes to make?! Elijah has a studio in Durham, North Carolina, where he makes all his different pieces by hand, I definitely recommend checking out his website below to see more.