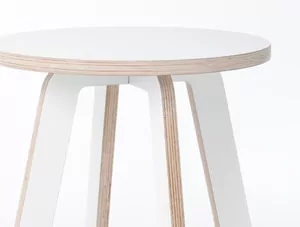 Ply Candy – Beautifully Designed and Finished Birch Plywood Furniture
One of the downsides to any creative output is the fact that something physical has to be made. This may sound like a very strange opener to an article about a furniture collection, but I'm sure many creatives will have had similar feelings at some point in time. The physical manifestation of an object is not necessarily derivative of an idea, sometimes what ends up being produced has little value in the real world. I often get the feeling that people think this site is about possessions and collection objects, when actually the opposite is true, it's about creative expression and having a positive ideology.
It's lucky then that we have creatives out there both challenging our way of thinking and producing work that's extremely relevant for today's society. Architect and furniture designer Martin Moeller's project titled Ply Candy is all about the production of plywood furniture that's environmentally friendly, functional and aesthetically pleasing. He's achieved this by using sustainably grown Finnish Birch plywood with an E0 emissions rating, which is cut using digital technology to minimise waste and then hand finished and assembled at his workshop in Sydney.
These minimalist furnitures remind me of Alvar Aalto's plywood collection, with their clean Scandinavian look and bold structural lines. I always marvel at work like this, as the use of material is cut down down to a minimum and the overall design is a great combination of aesthetics with practicality. The Ply Candy collection currently consists of chairs, stools, and tables, any off-cuts from production are later turned in to smaller products for the home. Overall a fantastic idea that has been produced in a thoughtful way, we need to support more creations like this.