Starling Chair by Cameron Foggo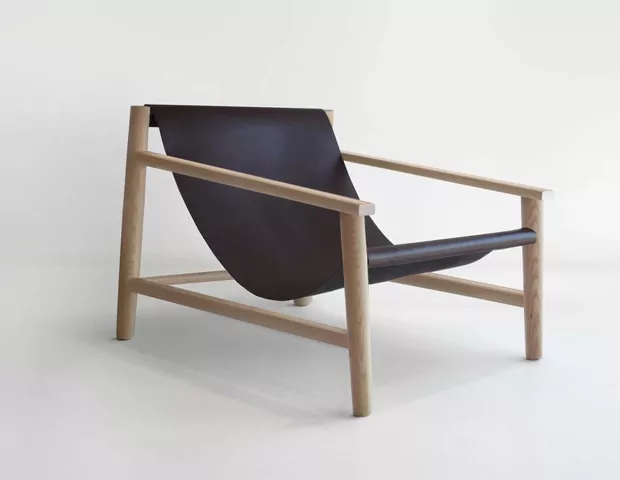 This is my second post on an item of furniture this week, hopefully we won't go five days straight with a chair everyday, although if we have seating options like this I won't be complaining and hopefully you won't either.
The chair that I've picked out today is titled the Starling Chair and has been designed by Cameron Foggo, a second-generation furniture designer. He joined his family's interior design consultancy where he followed the classic path of apprentice-to-designer. Having over 20 years of experience in the design industry he is renowned for his works based on elegance, function and simplicity, in my eyes the Starling chair has all of these in abundance. This specific chair comes in both an outdoor and indoor version, one with a thick leather seat sling for indoor use (pictured here) and a white canvas for outside, a perfect counterpart for lounging in the sunshine.
Cameron's intention was to produce a skeletal chair that can be used in any situation, also an object that would blend in with its surroundings and would not create a partition between the foreground and background. Constructed in either ash, American oak or American walnut this piece reminds me of some great mid-century designers works, particularly Alvar Aalto and his Paimio Chair which was designed for the Paimio Tuberculosis Sanatorium in 1928. This focused on the TB patients exact needs, such as the 110 degree angle of the chair back helping them to breathe, the front curve of the arm made it easy to grip for getting in and out of. In my eyes this chair has some similarities but is also different in other ways as well, which makes it a special piece in its own way.
I've got a lot of respect for Cameron and his work, hopefully we see more and more like this pop up in the near future. For now though you can check out some up close and personal shots above and below of the Starling chair, I would recommend visiting the Nonn website for more pieces of furniture and a small summary to go alongside.