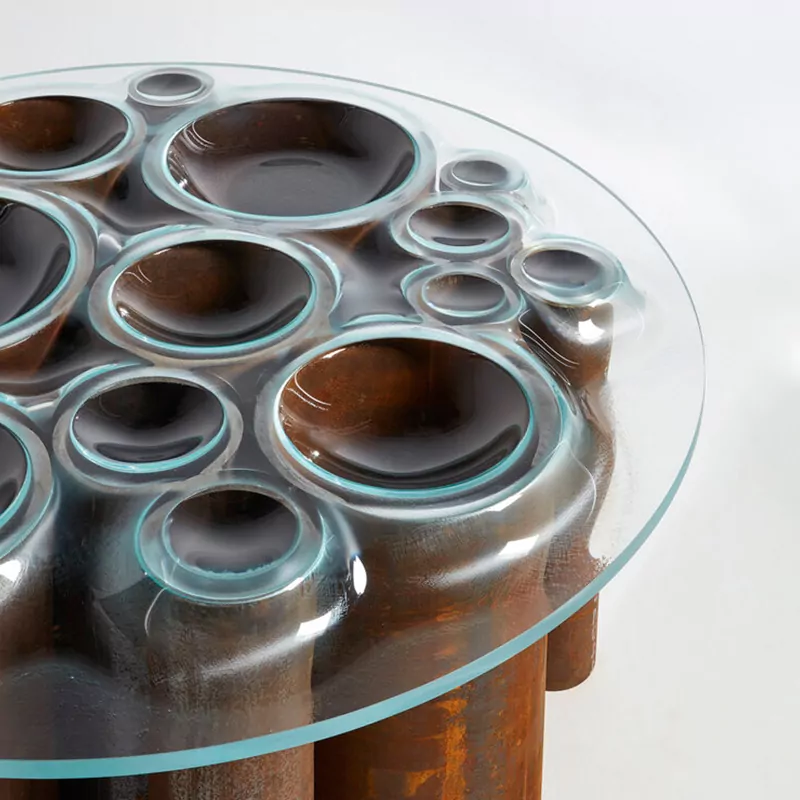 Sublime Equilibrium – Slump Furniture by Paul Cocksedge
At Paul Cocksedge Studio, people come first. Whether they are creating useful products or developing architectural projects, every design is meant to respond to the human form and the way we interact with objects and spaces. Founded in 2004 by Paul Cocksedge and Joana Pinho, the London-based studio is focused on simple, imaginative results produced by an in-house team with a strong sense of collaboration. These values have drawn national and international acclaim for an innovative approach that pushes the boundaries of their chosen materials and manufacturing processes.
The Studio's Slump furniture series embodies an emphasis of this minimalist aesthetic focused on leaning into the integrity of a given material. Projects within the series primarily function as tables, with square or circular sheets of glass "slumped" over monolithic base forms. Steel cylinders, actual rocks levelled off at the bottom, or large tree stumps provide a heavy focal point, pushing upwards through the centre of the glass surface as if they are about to burst through the immaculate transparent facade. By heating the centre of the glass sheet, the surface is able to take on the contour of its base form – connecting the two materials conceptually as well as functionally, so that the separate components are fused into one cohesive whole.
'Slump Rock Collection' is particularly noteworthy for its literally seamless combination of organic and manufactured substances. The stone, wood, and glass aren't forced together against their will, but seem to welcome the possibility of collaboration themselves. Coaxed into sublime equilibrium by the universal force of heat, planetary object is given utilitarian purpose by way of a level surface; simultaneously, the surface is given perpetual levitation without compromising its flawless face.
It's as if the two have always been connected by some subterranean geological occurrence and unearthed in perfectly coincidental functionality. Such are the properties of some of the most powerful designed objects, which are able to portray the manufacture of form as a natural process rather than a demonstration of brute force. Paul Cocksedge and Joana Pinho have created a harmony here.