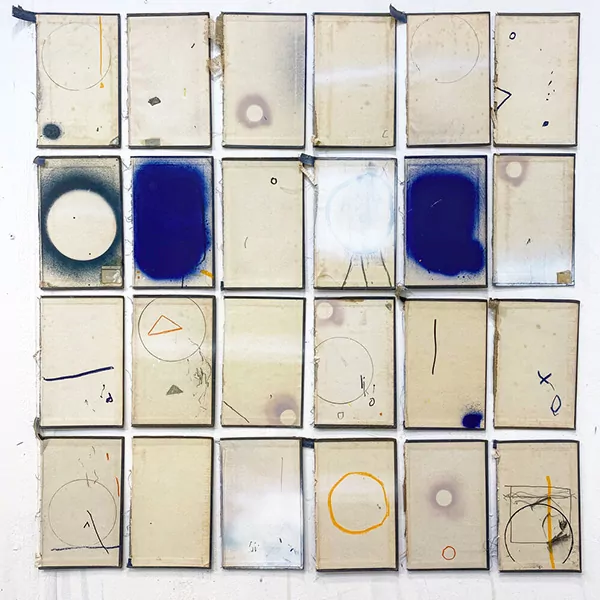 Atmospheric and Gestural – Paintings by British Artist Sam Lock
Sam Lock was born in 1973 in London, England and now lives and works near Brighton, UK. His work combines a variety of media with an emphasis on atmospheric, gestural paintings that are often accompanied with found and fabricated objects. These installations combine frantic and intuitive strokes with recognisable forms such as a vague series of numbers, replicas of ships, or the vague forms of heads placed on pallets in front of the paintings. The overall result is the creation of a liminal space between the physical world and that of a frenetic mind that is at once confident and searching for some great truth in a fog of recognisable symbols.
Some of Lock's work, such as the 'Where Shadows Fall' series, bear no specific connection to our material world, opting instead to create these vaguely concentric compositions that could read as maps of the inside of someone's head. They employ a dispersion of pigment that suggests intense movements as well as a certain weight in the structural forms that emerge from the drips and swaths of Phthalo blue.
On the other end of the spectrum, Lock's 'Composite' and 'Blanche Osborn, From Her Mother 1850' are both composed of multiple smaller works torn from weathered notebooks hung in together in a grid. The individual compositions feel intensely intimate, with some in 'Blanche Osborn' featuring the handwriting of one we can only assume is her late mother.
The overarching theme of Sam Lock's installations seems to be an effort to reconcile the interior world of memory and imagination with the one we are confronted with in our daily lives. We carry around these dynamic and encrypted messages wherever we go, in an effort to decipher the symbols and signifiers of our contemporary experience.