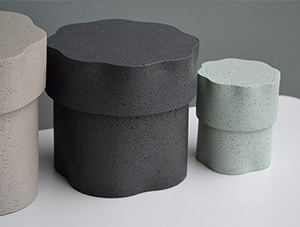 Jig & Elephant – Laminated Cork Containers by Spanish Designer Carlos Ortega
I really enjoy the idea of incorporating unusual materials in to the design process. I think this is where experimentation leads to innovation and is possibly why I was interested in these cork containers, both of which are designed and produced by Spanish maker Carlos Ortega.
Carlos Otega makes and designs lighting and architectural solutions made from wood at his studio, but has since gone on to incorporate cork in to his furniture. These containers, titled under two collections named Jig and Elephant, are made as a kind of offshoot to the furniture and came about by experimenting with the properties of this material.
It was partly picked because the texture in the material when pigment is added, alongside the organic shaping, which leads to a unique container that's very practical. Cork is lightweight, strong and flexible, all of these properties are hard to find in other materials. Here's a few pictures from their collection, but I recommend viewing more on his portfolio below. Especially the furniture which is quite special indeed. Enjoy.