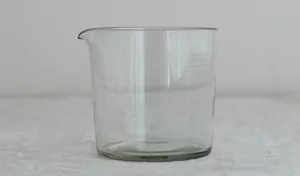 KOBO by Peter Ivy in Collaboration with Takahashi Midori
Designers in collaboration with craftsmen can often work well, especially when you pull in the likes of Peter Ivy. I've never talked about him here before, but I've been a fan of his work for a long time, and although I don't know much about him on a personal level I regularly check his website to see what he gets up to. Peter lives and works in Japan where he produces glassware under the studio name Peter Ivy Productions. I came across a recent collection that he produced in collaboration with Takahashi Midori, it's a selection of tableware such as containers and other functional vessels, and I thought it was perfect for the website. Peter has a unique sensibility, not only does he appreciate the aesthetic of the glass, he also makes sure they're functional and respond to human touch.
The series titled KOBO features drinking glasses, containers with wooden lids, bottles, bowls, and even dishes that come in a variety of sizes. All of these can be seen and purchased on his website. Reading through Peter Ivy's bio it seems like his main goal is to pass on his skills to future generations. He noticed when studying glass blowing, particularly on his travels around Japan, that the tradition of hand crafted glass has slowly become merchandised and even now in hand blown factories the hand is no longer making shapes. Hand shaped glass has recently been left to small private studios where typically the owners produce their own works. As a result the traditional apprenticeship and the skills that are passed on with it have all but disappeared.
What Peter's doing is admirable and very inspiring, I would like to follow a similar path myself. As a young individual who appreciates these crafts I sometimes feel like an anomaly, but I hope to pass this on to others and carry the value of such work through the shop and this website. Also, work on other projects in the future with a similar mind set, well that's the goal anyway! I would recommend keeping Peter Ivy's blog in your reader or saving it for future purposes, when he does update his website he often shows fantastic photos of the glass that he's produced and his thoughts on the work, both in Japanese and English.