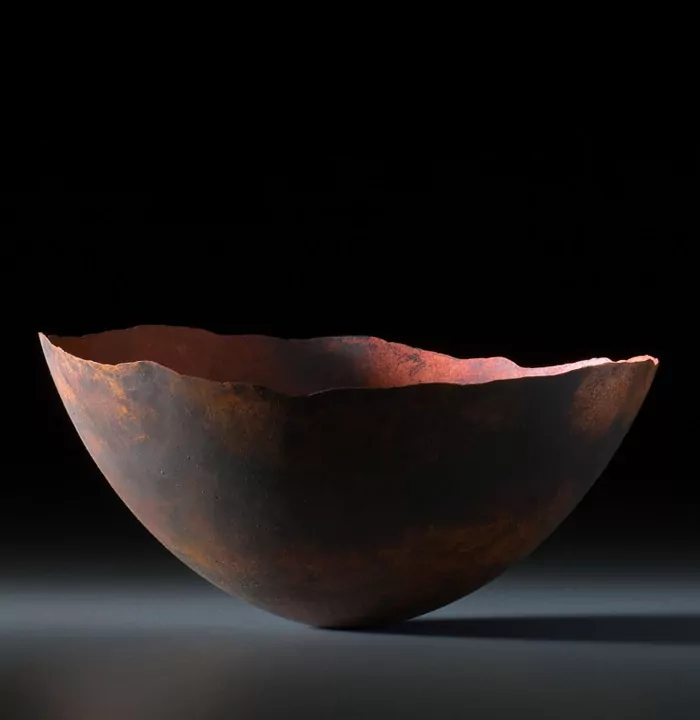 Timeless Creations – Metalwork by Maker Laurenz Stockner
Italian artist Laurenz Stockner sets out to create vessels that are both perfectly harmonious in shape and a representation of unspoiled natural beauty. He utilizes copper sourced from the Prettau mine, a mine known for having extremely valuable copper. Before shaping this copper into its final form, Laurenz smelts the copper in a furnace and, after weeks of preparation, uses the metal to craft his beautiful forms.
The bowls he creates are incredibly delicate, but hold an air of resilience and timelessness through the finishing techniques he employs. The material is stretched to its limits while Stockner forges and hammers it. He is able to achieve an extremely thin finished product that features some sort of natural element. Whether it be an irregular coloration, a fissure from the forging process, or uneven edges, the choices he makes during the crafting process are very precise which leads to some stunning results.
I find that these kinds of metalworks or sculptural pieces are my absolute favorite. I love how the artist is able to achieve a more natural look through their specific process. Stockner finds an extra measure of success in his ability to create multiple shapes that all fit the same look and feeling that he was attempting to convey. My favorite of this collection are the bowls that are adorned with a burnt orange color. This accent mixed with the dark gray undertones achieves the feeling of being earth-toned, while also standing out from other color schemes. It presents a beautiful contrast between the man that made it and the beauty hiding in such a metal.
Stockner is an extremely talented metalworker. Looking outside of this collection, it is fascinating to see the other kinds of work he creates. His process is one that is truly versatile and timeless. Anything he creates will hold those elusive qualities of beauty and timelessness that so many artists are searching for.