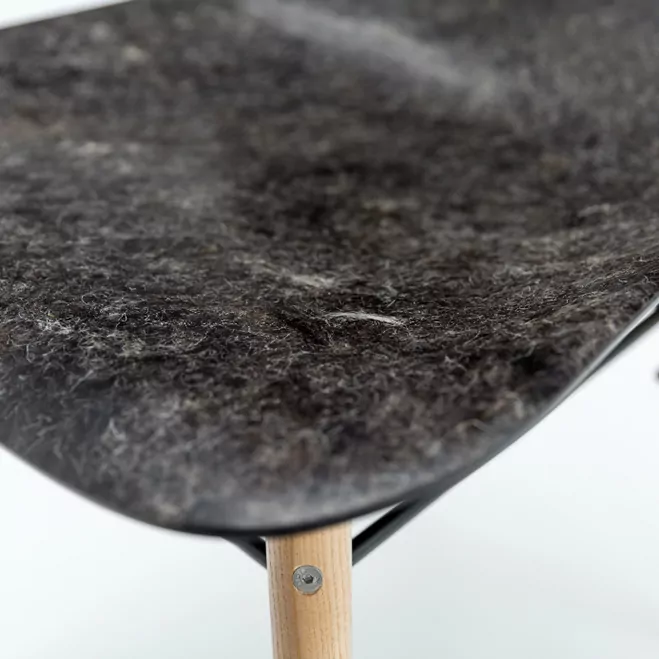 Working With Wool – Solidwool Furniture Project by Justin & Hannah Floyd
I'm always searching for innovative projects and today I have definitely found one of them. Based in Devon, UK is husband and wife team Justin and Hannah Floyd who are the owners and founders of Solidwool. With their home town's woolen industry in decline they decided to reinvent for the modern era, hoping to use wool as a material in unique ways to make products that last. So far they have produced a table, chair and some unique placemats for the home.
In order to make their furniture they combine the wool with a bio-resin in a unique manufacturing method that they have developed at their workshop. Very similar to fibreglass but with wool as the reinforcement instead of glass. They currently work with Hedrwick wool, which is a blue grey colour, so the variation in the top surface is unique to each object and gives them a distinct style. In a way it reminds me slightly of marble.
What I like the most about this project is that this material is a by-product of sheep farming, but they have been able to harness this 'waste' product and turn it in to something of functional value. As well as that, you can see cues taken from the great modern designers that have come before, Eames being one, taking some of the best elements from these designs and bringing them forward in to their own collection. I'm a big fan and hope you will click through to their website, I think you will be pleasantly surprised by the honesty and integrity behind their work.