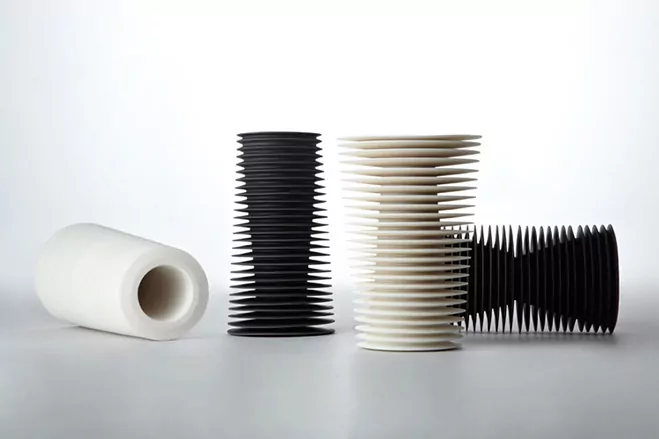 Objects and Shadows – Ceramic Sculptures & Vases by Nicholas Lees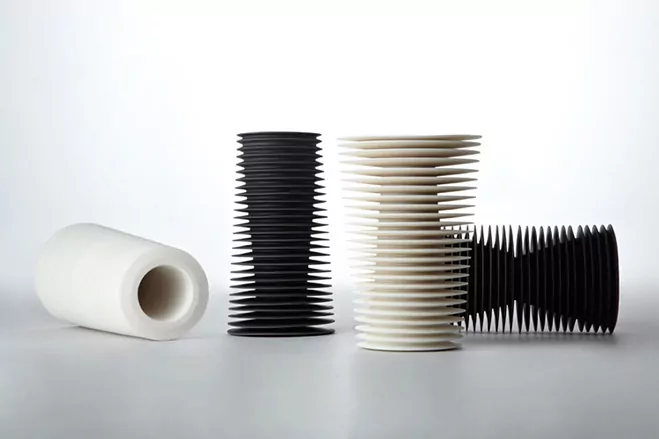 I'm sure if I asked you to think of a word to describe this work by sculptor Nicholas Lees, each and every one of us might come up with something slightly different. I personally thought of the word 'discipline' and how these fantastic vases are all variants of the same theme. They have symmetrical rings spanning the entire body, like fins, which are then manipulated slightly by Nicholas to create an illusionary effect. Although painstakingly made by hand, these are both calm and disciplined, cutting through the air with their architectural qualities.
The effect of the fins is actually quite hypnotising, especially when watching the pieces in motion on his video section, these clips give you a unique look at the vases and show how from different perspectives your eye is obscured from certain parts of the main body. One of the reasons why is because shadows cast in-between the rings, and this became the concept for his series titled 'Objects and Shadows' where he took the sculptures and showed them casting unique shadows at different times of the day on a surface. Quite an intriguing effect, especially since the light itself became an extension of his ceramic work.
What Nicholas has done with these vases is repeat to the point of artistry, their machine like appearance is part of the fascination and is a bold statement. This simplicity of following one theme through is probably the hardest thing you can do as a craftsman, and is something I take away as inspiration for my own work. To keep building on your skills and create with discipline. I will certainly look out for Nicholas' work in the near future, as his pieces seem quite mesmerising in motion. Enjoy.