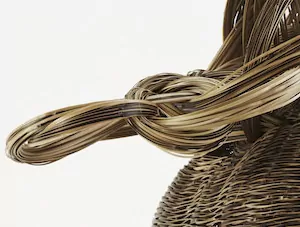 Organic Bamboo Sculpture by Shouchiku Tanabe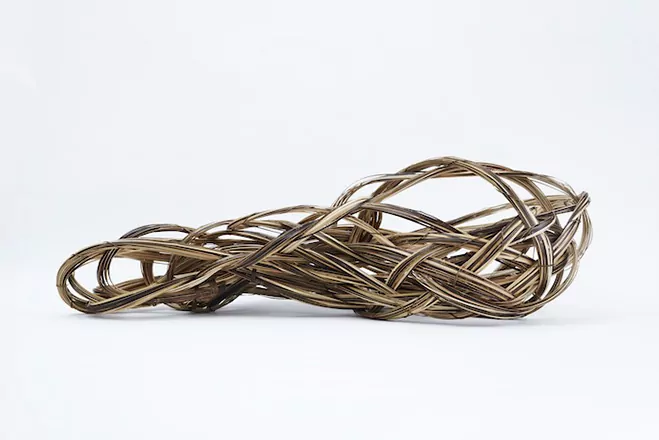 What we might consider a craft usually comes steeped in years of history. I think it's important to use the methods and processes that have been honed for thousands of years, but at the same time these can often limit an individual and leave them stuck in a time warp. Bamboo artist Shouchiku Tanabe on the other hand is someone who's successfully combined his traditional training to pursue both functional and sculptural wares, today I'm presenting the sculptural side of his work thanks to gallery Pierre Marie Giraud.
Throughout March and April 2014 Pierre Marie Giraud hosted an exhibition of Shouchiku Tanabe's works titled 'Zen', so I've decided to combine some images of his pieces from this series alongside the exhibition views inside their gallery. Learning bamboo art from his father when he was a child, Shouchiku graduated first from the fine art department of Osaka City Crafts High School, and later from the Sculpture Department of Tokyo Art University. After developing his skills as an apprentice for two years in Beppu City, Shouchiku Tanabe went back to Sakai City and learned bamboo art from his father. He practiced a traditional style of bamboo art and, while utilising the skills of the previous Chikuunsai generations, now makes a mixture of bamboo art at his workshop in Japan.
His goal is to succeed the generations that came before him in producing these Japanese bamboo works, but at the same time creating sculpture that pushes his craft in to a new category and breaks new ground. This is certainly something I felt when I first saw his pieces, he has a very original style, with his signature being organic forms made with tiger bamboo, black bamboo and other natural materials. I think it's important to note that bamboo is found all over Japan and is still used frequently in construction and handicrafts today, so I feel it's a slight commentary on traditional crafts and the ever changing complex society that they're now having to adapt to.
shouchiku.com
pierremariegiraud.com