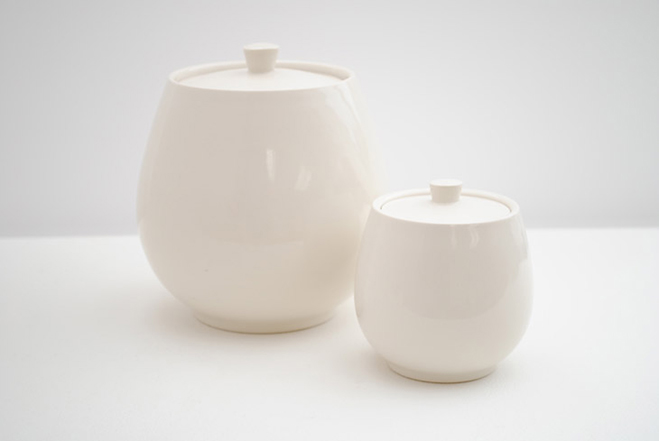 Development in Design – Porcelain Tableware by Matthew Warner
I've always felt that before I can judge someones work I should at least try it for myself, this helps in gaining an appreciation for the craft and the hard work that goes into it. Pottery is a subject that I do myself at home, and porcelain is a material that I've worked with extensively over the last year on a potter's wheel. After almost a year of manipulating the material I finally feel like I'm getting a grasp of it, but to be honest I'm still a beginner. I was drawn to the material through purity and aesthetic simplicity, but as with anything that looks simple and refined the actual material itself can be a real pain to work with. So seeing other peoples porcelain wares gives you instant appreciation for the skill it takes to create such fluid forms, especially in a material like this that tends to warp and fall away from you.
Matthew Warner is a young British potter who makes all his tableware from porcelain. These polished forms instantly grabbed me, and I appreciated his eye for simple design with a crafted element running throughout. It's obvious to see that some of his inspiration derives from his apprenticeship with Julian Stair in London, who often creates angular forms that represent the past, but I can also sense a designers mentality in him which is regularly referenced on his website. For example, Matthew talks about the way that these pots are carved after they're thrown on the wheel, looking to create thin flowing forms that have elegant details. Although the pots have all the hallmarks of elegance they would integrate perfectly in to a contemporary setting.
Overall I think he's achieved a nice balance in his work so far, and just like the ceramics that we so often talk about here, Matthew hopes to inspire people to think about common objects in a new way. I certainly think he's doing that and I can't wait to see what else he has in store in the near future, it's definitely a website worth bookmarking and I'll be checking back to see how he progresses. For now enjoy a selection of his work above and below.