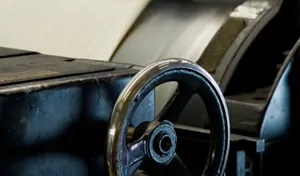 Set of Imagery from Evolution Letterpress
I was watching a short film on Evolution letterpress earlier today, and although the film was quite an insightful and enjoyable watch, it was the imagery being hosted on the companies webpage that really caught by eye. Based in Seattle, Evolution immerse themselves in traditional letterpress and printing techniques through the use of some really beautiful pieces of machinery.
The owner Scott Hill is immensely passionate about the work he creates with Evolution, he strives to bring each customer something unique and personal. Scott understands the beauty of creating traditionally, having worked as a printer for 30 plus years. He comes across as a very hands on owner, often found operating many of the machines we see in the set of images that we have here today.
Scott goes on to talk about how much he appreciates the opportunity to work with people that really care for the work and what he does. It's evident that this motivates him to create the best product he can, something I find quite inspiring conceptually.
When you're creating for people that appreciate your craft I think you can find new levels of meaning within your work. If you'd like to learn more about Evolution Letterpress and what their work means to owner Scott Hill you can watch the short film here, and read a little more via the link below.