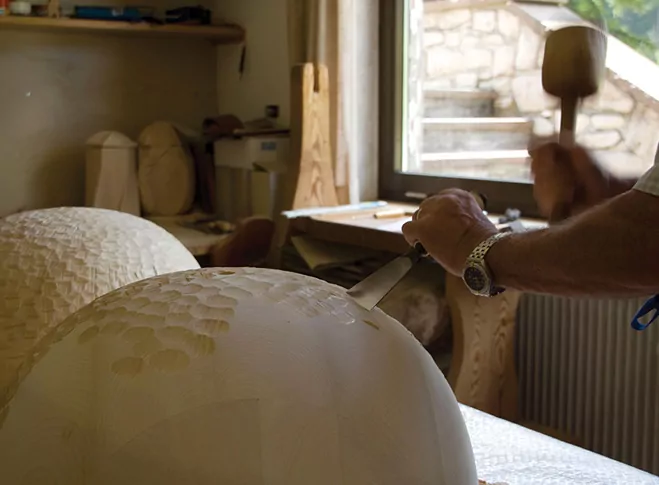 Handcrafted In Wood – Tick Lamps by Andrea Costa for ILIDE
When industrial design meets craft my eyes really light up, I'm instantly compelled to see the final outcome. Obviously I want to celebrate simple and honest design, elevating beautiful materials and bringing light to the rich process of making, but I also like the idea of stepping outside the box. The way in which people are consuming the same all over the world is down right depressing, so to see artistic creation and local craft come together is quite positive in itself.
These lamps hand-modelled by skilled Italian sculptors for design firm ILIDE are very impressive. Often known for their clean, minimal design, ILIDE have chosen their close network of professional designers, this time Italian designer Andrea Costa, and skilled craftsmen at a local workshop to collaborate on this wooden carved light. Titled TICK, the light itself is a oval shade in two different woods which has been carved using a chisel. The design is very simple but quite effective, adding both texture and shaping to the surface of the light.
I'm sure part of this rejuvenation of craft used in design is due to the realisation that we have to stop destroying our planet, many young designers are now on the quest to produce locally, returning to natural materials like timber, ceramic and glass. These commissions are helping to keep artisan techniques alive, and inspire consumers to be more self-conscious and mature in their purchasing habits. I'm all for it.