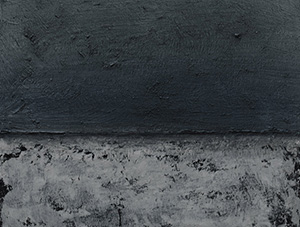 Removed from Reality – Abstract Paintings on Canvas & Wood by Carlos Regueira
Our art section here has felt fairly consistent over the years, which I think shows our commitment to discovering timeless artworks that will hopefully look contemporary and relevant for many years to come. Recently it's taken a slight turn in the sense that my mindset is shifting toward natural tones and more abstract expressions of space. Through my study in ceramics I've been fascinated with the tonal gradients seen in glazes and how the combination of heat and the natural components that make up the glaze can create subtle and striking colours.
When I came across the portfolio of Spanish artist Carlos Regueira it really inspired me, making me think about the different tones he has used and how the gradients radiate on the canvas. It didn't really surprise me when I read that his works are inspired by landscapes and he uses earthy colours as well as different mixed media to get the depth that he requires. The materials used can be anything from plaster, marble dust or iron filings.
A common theme across the board is a horizon line that divides the canvas, layering over this with often chaotic and fairly rapid brushstrokes to create a layered effect of sorts. I think it's also important to note the importance of his photography and how this gives the paintings and link back to reality. Anyway, here are a few of my favourite works from Carlos Regueira, more can be seen on his portfolio linked below. He is a very talented artist indeed.